Blazer GT8000 Big Shot Butane
$50.00 – $80.00
One thing I have noticed lately about some dab torches is that they don't last very long before they break. I came across the Blazer GT8000 Big Shot butane dab torch a couple years ago and it still works great. The Blazer GT8000 is very well designed and it is built to last. I would say this is easily one of the better torches for dabbing. This dab torch also holds a decent amount of butane so it will last for many uses. If you are looking for other options here's one
Anti-flare, brass-frame nozzle, for safety and flame control

Attachable tabletop base, for hands-free use

Gas-flow adjustment dial, to control flame length

Piezoelectric ignition system requires no electrical connection

2,500-degree F, torch flame, for a more precise flame tip

Treat your torch as you would any fine instrument. Do not drop or otherwise abuse
---
Add to Wishlist
Compare
Description
When I was first looking into the Blazer GT8000 dab torch, I was looking for something that just worked better than the junk you can buy from smoke shops. A lot of smoke shops sell very junky dabbing torches that I typically don't recommend. Blazer makes a decent variety of butane torches in different sizes for different needs. I picked out the Blazer Big Shot because it seemed like a really good torch for dabbing. The Blazer GT 8000 Big Shot is a part of their industrial series. The torch is a pretty good size, its a little bigger than some of the kitchen torches you see. It stands at 7.25″ tall, weighs 13 oz, and has a capacity of 28 grams.
This dabbing torch comes with a Piezo crystal instant ignition and an Anti-Flare brass nozzle. The base is detachable and can be used to help your dabbing torch stand up on a desk or table. The flame is very controlled and you can even turn the dab torch upside-down without the flame going out.
A full tank of butane will give you over 35 minutes of high grade 2500 F burn time. You shouldn't need to run your torch for more than a minute at a time when heating a nail so this has plenty of uses. When I use this for my titanium nail I will usually get over 60 uses for heating up before it runs low. This is a powerful, portable, Anti-Flare butane torch for dabbing that is refillable. I like that it comes with a safety cap that can be put over the trigger when it's not in use. This is one of the best-priced torches for dabbing that I have come across, and it works really well. I would recommend the Blazer GT8000 Big Shot for anyone looking for an excellent dab torch
| | |
| --- | --- |
| Brand Name | Blazer |
| Color | Black |
| Ean | 0853059001739 |
| Heating Element Type | Butane Gas |
| Included Components | Base, User Manual |
| Model Number | GT8000 |
| Number of Items | 1 |
| Part Number | GT8000 |
| Specification Met | |
| UNSPSC Code | 40000000 |
| UPC | 853059001739 |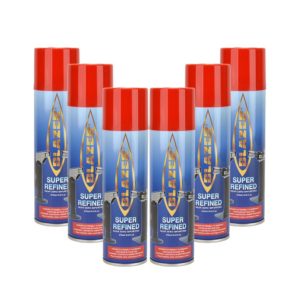 When you order the torch it is going to come empty so you will need to fill it after purchase. I always like to make sure all my torches are empty before putting any butane in it. This means running an empty torch until all of the possible air comes out. Having oxygen in the tank along with butane can mess up your flow and make the torch work weirdly. So make sure you get all of the air out the replace the safety cap.
When you fill any butane dab torch it is recommended you hold the torch upside-down and keep the butane and torch vertical. When filling your Blazer GT8000 it should only take a few moments and you will notice some back-spray form the butane, stop filling then. While you can use almost any butane to refill your dab torches, I recommend using the Blazer butane refill for your Blazer torch.
Additional information
| | |
| --- | --- |
| options | Blazer GT8000 Big Shot, Blazer Butane Refill – 6 canisters |